2022 Irish J24 Northern Championship at Lough Erne Yacht Club
by JP Mccaldin 21 Jun 12:27 BST18-19 June 2022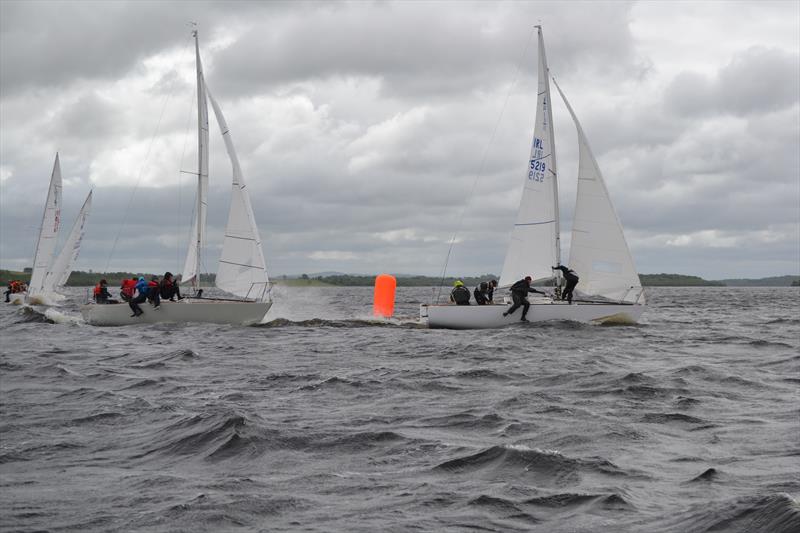 Il Riccio leading Hard on Port during race 5 of the 2022 Irish J24 Northern Championships © LEYC
Twelve teams travelled from throughout Ireland to compete in the 2022 J24 Northern Championship hosted by Lough Erne Yacht Club over the weekend of 18th and 19th June. Four local boats including Barry Humphreys on TJ, Tim Rippey on Jigalo, Luke Mcbride on Crazy Horse and JP McCaldin on Il Riccio took part.
Racing on Lower Lough Erne from the Lough Erne Yacht club the teams completed all 6 races over the weekend in strong winds on the broad lough. Racing was expertly overseen by national race office Derek Bothwell and a team of volunteers on and of the water.
Race one on Saturday afternoon started in 24 knots of wind and was a very close contest with the lead changing several times the race eventually going to local team Il Riccio led by JP McCaldin, second was new owner of Hard on Port from Bray sailing club Dave Bailley, with Diarmaid Mullen, Sligo yacht club, in third position with his new boat to the class Smugairle Róin and close battles down the fleet for the other places.
Race two went to Class president Mark Usher from Greystones Sailing Club sailing Jumpin' Jive again with second place going to Hard on port and Il Riccio in third.
Race three saw Hard on Port take their first race win with Jumpin' Jive in second position and Colm O' Flaherty and team in their new boat Jedi from Sligo Yacht club coming third.
With the wind increasing again, Hard on Port dominated race four to take the win from Il Riccio with Smugairle Róin in third. Very tired, battered, and bruised sailors retired to the club house in Killadeas for an evening of entertainment and to swap tails of the days epic racing in strong winds and sea like waves. The seen was set on Sunday for an exciting two race showdown between Hard on Port, Il Riccio and Jumpin Jive all separated by just 3 points any one of them could still take the event.
Sunday dawned calmer but by the time the teams arrived in the sailing area winds were again as strong as the previous days and small jibs were the order of the day to keep the boats under control.
Race 5 was again a battle between Hard on Port and Il Riccio. Il Riccio needed to beat Hard on Port to keep their event hopes alive and were leading at mark 1 but great speed by Hard on Port saw them take the lead win the race and their tight controlling position over Il Riccio allowed Jumpin' Jive through to take 2nd from Il Riccio. This result meant Hard on Port took their first event win under Dave Bailley with a race to spare and left the rest to battle it our for the final race.
The final race was dominated by Il Riccio who stuck with the smaller jib, Smugairle Róin also stuck with their jib and came 2nd with Jumpin' Jive third. This result meant Il Riccio finished 2nd overall with Jumpin Jive in 3rd. 1st silver fleet and under 25 team went to Howth under 25 team on Killcullen lead by Oisin O' Connor, definitely a team to watch for the future.
Back to the club house to derig and ready for the long drive home for all the travelling teams. We caught up with the J24 Northern Champion for 2022, Dave Bailey who said "delighted to get the win in very challenging conditions over the weekend. A great start to the season and looking forward to the events ahead throughout Ireland. The event was run superbly from start to finish as always by LEYC. More great memories to add to our sailing up North".
At the prize giving event organiser June Clarke thanked event sponsors Fermanagh and Omagh district council, Hidden Hearing and North Sails, and wished everyone a safe journey and we look forward to meeting up for our National championships in Foynes Yacht Club in July.